#DJBravo #IPL #IPL 2017
Rhythm is the essence of West Indies and Gujarat Lions all-rounder, Dwayne Bravo, be it delivering those perfect slower ones in the Indian Premier League, breaking into victory moves or expressing it all in music.
After creating waves with his #Hit #Song '#Champion', Dwayne Bravo seems set to produce another track which features India captain #ViratKohli and his predecessor #MSDhoni.
The number 'Champion' by the 33-year-old Trinidadian was a hit during the 2016 World Twenty20 in India, which was won by West Indies.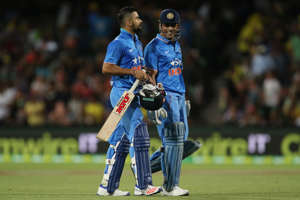 This time around, Bravo's song revolves around India and arguably its two biggest #Cricketing names at the moment.
Bravo goes: "Let us go over to India, India, India. I call up a boy named Kohli, Kohli, Kohli. We tell him to WhatsApp Dhoni, Dhoni, Dhoni."
As the all-rounder ends the song, the two burst out laughing.
#Kohli also featured in Bravo's song 'Chalo, Chalo', which features many cricketers like Chris Gayle, Kieron Pollard, Michael Hussey and Irfan Pathan.
Bravo will hope his song will put a spring in the step of his teammates.
Powered by:
http://www.whowillwinthecup.com